Edge Summer Day-Camp 2017
---
2017 /18 Fall Registrations (

Registros de Otoño)
Register your tweens and teens for the 2017-18 year now! Click here for the Registration Form
Click here for more information on how to register your teen: Registration Information & Fees 2017-18
Registre a sus jóvenes y adolescentes para el año 2016-17 ahora! Haga clic aqui para la Forma de Registro
---
Retreat Info / Info del Retiro:
      Teen Retreat: December 9 through the 11th. Open to all high-school aged teens. Click here for more info and Retreat Permission Slip, en español haga clic aquí Retiro 2016
---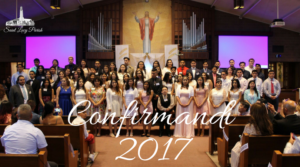 ---
 HIGH SCHOOL CONFIRMATION
Our program uses Life Teen's One8 resources to prepare our teens for the Sacrament of Confirmation. We intend to guide our youth and help them respond to their calling, whatever it may be. It's all right not to have it all figured out and put together, every person grows their faith in their own unique way.  Saying "yes" to becoming a full-pledged Catholic is the first step to grow as a disciple of Christ. This program includes 2 retreats, a community service project and attendance to the diocesan-wide Confirmation Conference. Sponsor(s) are required for each candidate, and they too must attend some class sessions and the sponsors retreat. This program requires either a one or two track ("year") process, please contact the office for more information, to be evaluated for a track please contact:
English & Español: Patty Osorio, (408) 378-2464 x 103 or posorio@dsj.org
Sacramental Prep, Confirmation Calendars: Track 1, Calendar_2016-17, Calendario_2016-17 ; Track2 Calendar_2016-17, Calendario_2016-17, Calendar For Sponsors_2016-17
---
LIFE TEEN 
High School Teens
LIFE TEEN is the youth ministry program here at St. Lucy Parish for teens grades 9th through 12th. The program was started by three very ambitious young men: a youth minister, a musician, and a priest. We take care of your spiritual, social, educational, and emotional needs. Come join the largest and most dynamic Catholic youth program in the country!
LIFE TEEN meets every Sunday night, starting with the 6PM Mass. Following St. Lucy's 6PM Mass, the youth minister and core members lead the teens deeper into their Catholic faith in the Life Teen experience through movies, skits, readings, small groups, powerful talks, etc. Teens grow as a faith community, growing in understanding of what it means to be young and Catholic in the world today. Bring yourself and your friends! This program is free but you still have to sign-up.
For more information, please contact:  English & Español: Patty Osorio, (408) 378-2464 x 103 or posorio@dsj.org
Life Teen Facebook Page    
     Life Teen Instagram  
Click here for our youth group Calendar of Events 2016-17: JanFebMar2017Events
---
EDGE -MIDDLE SCHOOL YOUTH MINISTRY

EDGE is a youth ministry for 6th, 7th and 8th Graders that is Catechetical, Relational, Experiential, and Catholic. Middle schoolers learn about the Catholic Faith and Catholic Traditions. Edge is a youth group – that means our format is more appealing to middle schoolers than a classroom setting for faith formation, more engaging and more practical. This fun and social program is open to all middle schoolers (both public and private schools) and it's absolutely free. We meet weekly every Monday from 7PM to 8:30PM.
The EDGE's Core Team has responded to God's call to go out and make disciples of the nations by being here every week with the middle schoolers. The Core Team leads the tweens closer to Christ by example. We especially, encourage parents to get involved as Core Members because it fosters a positive view of people like their parents (or their actual parents) getting involved in their faith and in their lives.
For more information, please contact:
English and Spanish: Patty Osorio, (408) 378-2464 x 103 or posorio@dsj.org
Click here for EDGE 2015-16 Calendar
---
FIRST HOLY COMMUNION- GRADES 7th & 8th
Sacramental Preparation for First Reconciliation and First Communion is a 2-year process at St. Lucy. Please enroll your youth in our Middle School Sacramental Prep program.  The first year of study helps the youth come to an overall general idea of who Jesus is and was the second year takes them on a deeper and more personal journey towards Jesus. Our hope is that the youth come out of these classes with a growing sense of their Catholic identity and how they are called to participate in the Sacrament of the Eucharist as often as possible.
Classes are the first three Thursdays of the month. Year 1 meets 5PM to 6:30PM in the Lally, and Year 2 meets 6:30PM to 8PM in the PAC.
For more information, please contact:
English and Spanish: Patty Osorio, (408) 378-2464 x 103 or posorio@dsj.org
Sacramental Prep,First Communion Calendars: Year 1 Calendar2016-17 Year 2 Calendar2016-17 En español: 1Calendario_2016-17, 2Calendario_2016-17