OR
In Person or by Mail:
St. Lucy Parish
2350 Winchester Blvd., Campbell CA 95008
St. Lucy is a 501(c). We gratefully and graciously acknowledge your generous support and commitment.

Inadequate restroom facilities for our church and school?  Poor lighting in our church? Safer lighting for buildings and parking areas? We all love our homes but we also realize that they are in constant need of repair and updating both for our safety and our enjoyment. Our parish home is no different.
Our plan is to begin our Capital Campaign improvements next year and continue in subsequent years, allowing us to provide a safe, welcoming environment where we can gather, worship, and call our spiritual home.
The costs indicated are estimates to cover our needs.
ADA Pre pay – $210K
Church bathrooms 2 x $200K = $400K
Church storage, Ushers room (displaced by new church bathrooms) – $300K
Church interior lighting – $150 K
Church exterior ADA ramp upgrade (as a result of the bathroom expansion) – $80K
Exterior Lighting Improvements – Church, Lally, Parking lot, PAC – $50K
School bathrooms – 4 x $265K = $1.060M
School staff room and janitorial storage room (displaced by new school bathrooms) – $300 K
Miscellaneous projects – $160K
---


¿Instalaciones de los cuartos de baños de nuestra iglesia y de escuela? ¿Mala iluminación en nuestra iglesia?  ¿Iluminación más segura para nuestros edificios y áreas de estacionamiento?  Todos amamos nuestros hogares, pero también nos damos cuenta de que están en constante necesidad de reparación y actualización, tanto para nuestra seguridad como para nuestro placer.  Nuestra casa parroquial no es diferente.
Nuestro plan es comenzar los proyectos de la Campaña de Capital el próximo año y continuar en los años siguientes, permitiéndonos proveer un ambiente seguro y acogedor donde podamos reunirnos, adorar y contar con nuestro hogar espiritual.
Los costos indicados son estimaciones para cubrir nuestras necesidades.
Prepago del ADA – $210K
Cuartos de baños en la iglesia – 2 x $200K = $400K
Almacenamiento de la iglesia, cuarto de los ujieres (desplazados por los nuevos baños de la iglesia) – $300K
Iluminación interior de la iglesia – $150K
Actualización de la rampa ADA en el exterior de la iglesia (como resultado de la expansión del cuarto del baño) – $80K
Mejoras de iluminación en el exterior – Iglesia, Lally, Estacionamiento, PAC – $50K
Baños en la escuela – 4 x $265K= $1.060M
Cuarto del personal de la escuela y cuarto de almacenamiento de limpieza (desplazados por los nuevos baños en la escuela) – $300K
Proyectos varios – $160K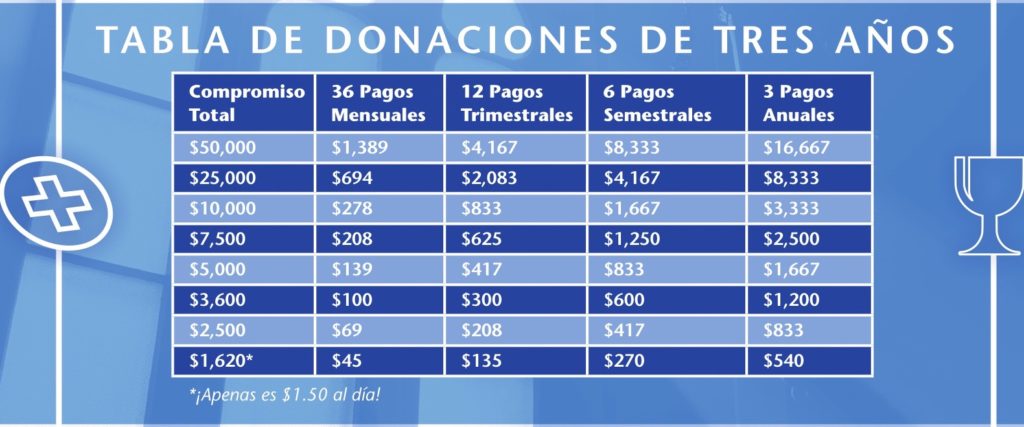 Formas de comprometerse HOY:


O
En persona o por correo:
St. Lucy Parish
2350 Winchester Blvd., Campbell CA 95008
Santa Lucía es una 501 (c). Agradecemos amablemente su generoso apoyo y compromiso.